Beckham's Broken Ankle Breaks Giants Season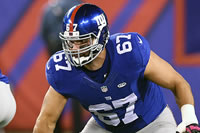 Okay, the Giants season was already in the toilet. But losing your biggest superstar to injury is something no team wants to face, and that's exactly what happened during Week 5's Battle of the Basement Dwellers between the New York Giants and Los Angeles Chargers. In the fourth quarter of Sunday's game, the winless Giants sent Odell Beckham Jr. on a routine slant route across the middle. Eli Manning threw high, Beckham leapt, and the incompletion resulted in a gruesome ankle injury for the receiver (along with a path to victory for the equally hapless Chargers). The Giants are currently seeking a second opinion on Beckham's broken ankle, with a decision re surgery to come in the next few days. No matter how well Beckham's recovery goes, though, he's going to be out for the remainder of the 2017-2018 season.
Exactly what effect Beckham's broken ankle will have on the Giants' upcoming betting lines is an interesting question. On the one hand, his absence will definitely hurt the Giants in the scoring department. On the other hand, the 0-5 Giants are just generally terrible with or without their flamboyant wide receiver, so they probably weren't going to be favorites in too many games this season to begin with.
SportsBettingNewYork.comthinks tepending on your sports betting preferences, it might be a good idea to sit back and wait a week or two before deciding how this particular Giants team will respond to Beckham's broken ankle. Their next three games are against the 3-1 Broncos, the 3-2 Seahawks, and the 3-2 Rams, and none of those games seems winnable. If you're interested in straight moneyline NFL bets, the Giants just became your number-one team to watch. If you're more into spreads and over/unders, however, Eli and company might still surprise you. Who knows, maybe Backham's backup, Tavarres King, will share a few fancy end zone celebrations of his own.
Best New York Sports Betting Sites - 100% Trusted + Safe