Nichols Sportsbooks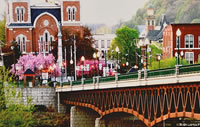 In 2018, the Supreme Court repealed the Professional and Amateur Sports Protection Act (PASPA), paving the way for states to start legalizing sports betting. One state that was perfectly poised to do this was New York, as it had approved measures on the hopes this would happen. For Nichols sportsbooks, there is only one venue – Tioga Downs – but this venue is able to supply the needs of all of the residents and tourists who wish to visit this upstate commercial casino.
To make room for the Tioga Downs sportsbook, the venue requested in early 2019 that the New York State Gaming Commission (NYSGC) reduce the minimum number of slot machines that the casino had to have on its premises. The commission agreed to a 5% reduction, taking the number of slots from 944 to 892. The space freed up has been used to expand the original Tioga sports betting lounge to meet the huge demand for sports wagering in the area.
Best New York Sports Betting Sites - 100% Trusted + Safe
Is Sports Betting Currently Legal In Nichols?
In 2013, lawmakers approved a referendum to the state code to allow four commercial casinos to open in the state. Before wagering could take place though, all federal restrictions had to be removed. Also, the New York State Gaming Commission had to create a set of regulations for the sportsbooks to abide by. The referendum was signed into law, and then essentially sat there for five years collecting dust until PASPA was overturned in 2018 by the US Supreme Court.
When this happened, Nichols sportsbooks officially became legal. Shortly after, the NYSGC created regulations for sports betting in New York and the industry was ready to launch pending licensing approval. Tioga Downs became one of the first sportsbooks in the state to launch, as their operations began in the middle of July 2019.
For the foreseeable future, sports wagering in NY will be limited to in-person wagering, as mobile betting was not approved. According to NY Governor Andrew Cuomo, the addition of mobile sports betting will likely require an additional voter referendum; however, the legislators spent the majority of the 2019 session arguing over the position. Keep in mind that regulations also state how betting on professional sports is permitted but any action on a New York college or university will be off the board. Additionally, any collegiate sporting event that takes place in the state regardless of a NY university's participation is also off-limits (an NCAA Basketball Tournament game at MSG for example).
How Old Do I Have To Be To Bet At Nichols Sportsbooks?
When you're betting at the Nichols sportsbook at Tioga Downs, you're going to have to be at least 21 before you can get in on the action. So think of it this way – if you're not old enough to go to the sports bar at the Nichols casino, you're not old enough to bet at the sportsbook there, either. Some NY residents might be tempted to use the offshore sportsbooks available to them at just 18 years of age. However, books' terms of service mandate that prospective members must defer to their own states' legal sports wagering ages. If NY didn't have an official legal age of 21 in order to bet on sports, you could sign up and wager at just 18. However, since NY law is specific on this, you will need to adhere to your state's mandates.
Other Cities With Sportsbooks In NY
Best Sportsbooks in Nichols, NY
When it comes to land-based sportsbooks in Nichols, NY, your best option is pretty clear – the Tioga Downs Casino Resort. Of course, this is the only land-based sportsbook available in Nichols for sports betting in New York, but that's beside the point. This venue has the space and the traffic to make their wagering and viewing experiences the best in the region. Tioga Downs is a truly modern, world-class operation that strives to provide its patrons with the ultimate gambling experience, and that dedication to quality and service is exuded by their state-of-the-art sportsbook and wagering/viewing lounge.
Review Of The Nichols Sportsbook at Tioga Downs Casino Resort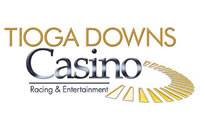 Tioga Downs Casino Resort

Address:

2384 W. River Road, Nichols, New York 13812

Phone:

1-888-946-8464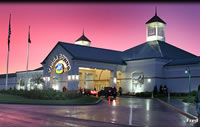 At the Tioga Downs sportsbook, you are able to bet on every professional event taking place in New York, the rest of the nation, and throughout the entire world. As with the other full-service sports betting venues in upstate New York, league support includes the NCAA, NFL, NBA, MLB, NHL, MLS, golf, tennis, soccer, rugby, cricket, UFC/MMA, boxing, e-sports, horse racing betting, auto racing, and more. On the occasions when you are able to visit the best sportsbook in Nichols, you definitely need to come prepared to see thousands of options on the odds boards.
Tioga Downs isn't just for sports bettors, even though that's the aspect that's making headlines of late. In addition to sports wagering opportunities, you'll find live pari-mutuel wagering and simulcast wagering on the ponies year-round. You'll also have access to over 30 live table games with blackjack, craps, roulette, and more. And, of course, the slots abound!
With a dozen poker tables on-site, Tioga Downs offers both limit and no-limit poker seven days a week. They've got five and seven-card stud, too – both high and low games. Limit Omaha, pot-limit poker, high/low Omaha, and high-only Omaha are all also available. Basically, if you want poker, you'll find it in spades (and hearts, clubs, and diamonds!) at Tioga Downs.
With one of NY's only sports betting lounges, you should expect a variety of bonuses and promotions for the book similar to what is offered for the table games and slots (particularly leading up to the NFL season). Even if other legal sports wagering venues come to the area, Tioga Downs will always be Nichols' best sportsbook!