New York Sports Betting Bill Tracker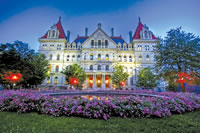 Although the landmark Murphy vs. NCAA case was pushed through and ultimately won by neighboring New Jersey, it was just as monumental a win for legal New York sports betting. As one of the most populous states and home to dozens of professional and collegiate sports teams, New York boasts one of the largest gaming markets in America. As such, regulated sports betting in the Empire State could have astronomical economic impacts.
Many are unaware that New York has been a proponent for sports betting for quite some time. In 2013, a referendum approved the New York Gaming Economic Development Act, which expanded gambling to include sports wagering. Of course, the state could not implement the law until such was permissible on the federal level, which was the end result of the May 14, 2018 ruling on the above New Jersey sports betting case. The Supreme Court voted 6-3 that the prohibitive Professional and Amateur Sports Protection Act of 1992 (PASPA) was unconstitutional, therefore lifting the 25-year-old ban that restricted single-game wagering to Nevada. Now that PASPA is no longer an issue, New York is free to move forward with sports betting expansion.
While the aforementioned 2013 referendum did legalize sports gambling, lawmakers have been continuously introducing new legislation, thus delaying the rollout of legal sports betting in the state. The 2013 act, as written, only legalizes sports betting at four specific commercial casinos in upstate NY, which is why lawmakers and other gaming interests have been working on expanding sports wagering further. (The four exclusive commercial casinos that can legally offer NY sports betting include Del Lago Resort & Casino, Tioga Downs Casino, Rivers Casino & Resort Schenectady, and Resorts World Catskills.)
During the 2019 legislative session, the state passed a bill that officially formed the regulations on how sports betting would work in the state and how money collected from sports betting taxes would be allocated. With that bill, tribal casinos were also able to offer sports betting. It wasn't until 2021 that mobile betting finally got put on the state's fiscal budget. Sportsbooks are now applying to be able to partner with the state lottery and provide online sports betting to New Yorkers.
Best New York Sports Betting Sites - 100% Trusted + Safe
The following are the latest proposed sports betting laws in the state of New York:
Summary:
"Relates to regulation of sports betting and mobile sports wagering; implements a tax equivalent to eight and one-half percent of sports wagering gross revenue; requires reporting; provides for civil penalties for violations."
Summary:
"Authorizes gambling on professional sporting events and athletic events sponsored by universities or colleges at betting facilities located at thoroughbred and harness racetracks operating in this state, in simulcast theaters operated by off-track betting corporations and in any constitutionally authorized casino facility; provides that the proceeds of such gambling be applied exclusively to or in aid or support of education."
Summary:
"Establishes the legislative task force on online sports betting."
Summary:
"Establishes the task force on mobile sports wagering for the purpose of conducting certain hearings regarding mobile sports wagering and reporting its finding to the governor and the legislature."
Summary:
"Authorizes gambling on professional sporting events and athletic events sponsored by universities or colleges at betting facilities located at thoroughbred and harness racetracks operating in this state, in simulcast theaters operated by off-track betting corporations and in any constitutionally authorized casino facility; provides that the proceeds of such gambling be applied exclusively to or in aid or support of education."
Back to SportsBettingNewYork.com