Schenectady Sportsbooks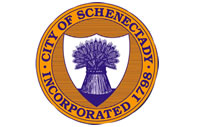 You're probably thinking, "Hey, the Giants (or Yankees) season is right around the corner, and I heard that sports betting in New York is legal now. I'm going to go down to one of my local Schenectady sportsbooks to place a few bets on my favorite team." Which sounds all fine and dandy – except there's a catch: there's only one Schenectady sports betting site. That's right – despite sports wagering being 100% legalized in New York, your wagering options are still pretty limited. In Schenectady, there's only one venue that has an on-site sports betting lounge, and that's the Rivers Casino & Resort.
For the foreseeable future, sports betting is limited in New York to the four land-based upstate venues that were authorized with the state's 2013 push to expand wagering in the state. Aside from Schenectady, these cities include Monticello, Nichols, and Waterloo. Of course, given its relative renown, the Schenectady book at Rivers Casino & Resort might just be worth the drive, even if other venues happen to be closer by.
Of course, given that NY does not have legal online sports betting available, you'll have to make a drive of some kind to wager at state-approved venues regardless of where you decide to place your bets. There is one workaround, though: online, offshore sportsbooks. And because there is no law precluding your use of such books (like Bovada, BetOnline, 5Dimes, etc.), it remains completely safe and legal to use these. These are certainly the most convenient options for the time being, but there is one aspect in which such online sportsbooks fall well short of Schenectady's sportsbook, and that's that in-person experience.
Brick-and-mortar retail sportsbooks offer something more than the pure thrill of sports betting. Because they have active sports wagering lounges, they're basically the best places to actually watch the games you're betting on. For this reason, you should never just pass up checking out a physical sportsbook just because it's more convenient to use an offshore book over the Internet. Yeah, you can place your wagers easily and quickly using these online books, but the rest of the experience is simply not available in an online setting.
Is Sports Betting Currently Legal In Schenectady?
Before going any further, we've got to answer the big question: Is sports betting currently legal in Schenectady? The short answer is yes - sports betting in Schenectady is legal. That being said, you're only going to find one land-based sportsbook operating in or around the city. Why? Because instead of just passing regulations so that sports betting can get underway anywhere in the state, NY lawmakers decided to double down and attempt to control the pastime's rollout so that the state's newest quartet of casinos can get a financial shot in the arm over the next few years. As such, sports betting is only available in Schenectady and three other cities, while the rest of the state hasn't got much choice but to make a casino road trip or hit up offshore sports betting sites over the Internet.
Let me give you a clearer picture of the background of NY sports betting legalization: Back in 2013, the state of New York passed an amendment to state law that would allow for commercial casinos to open in four upstate cities – Schenectady being one of them. In this amendment, there was conditional verbiage that would allow for sportsbooks to operate out of these commercial casinos. The first condition was that federal restrictions had to be lifted before the state of New York could take any further action on sports betting. The second condition was that as soon as federal restrictions were lifted, lawmakers could create regulations and open their sportsbooks.
By now, we all know that PASPA was lifted in May 2018 when the Supreme Court declared it unconstitutional, so there is no longer any federal ban on sports betting. But instead of immediately getting to work on regulations for the four already-legal sportsbooks in the state, lawmakers decided that they were going to put a hold on that and waste time attempting to expand sports betting altogether (which was actually somewhat controversial). Basically, they tried to run before they could walk. Or even crawl. As a result, sports wagering got delayed until Q2 2019, and nothing has changed. The regulations now are exactly what they were the second PASPA was overturned a year ago. In other words, the gambit to delay the whole shebang to make the final product more expansive did not work out in the state's ultimate favor (or in ours as eager sports bettors).
Finally, progress is back on track. In early 2019, the New York State Gaming Commission released its industry regulations for public comment, and they seem reasonable enough when compared to all other states currently working through legalizing the activity of sports wagering. As such, sports betting venues, like the Rivers Casino sportsbook in Schenectady, were finally able to open their doors to the avid sports betting public.
Legal Gambling Age In Schenectady, New York
The legal gambling age in Schenectady, New York, depends on what gambling activity you're trying to take part in. Sports betting, for example, can only take place in existing upstate casinos, which means you have to be at least 21 years of age or older to bet on sports. Other activities that take place outside of casinos, like lottery and bingo, only require you be 18.
Online, offshore sportsbooks that cater to NY residents will accept bettors of at least 18 years old, but there's a caveat: If your state has a legally-established specific age limit for sports betting, you must comply with this before wagering at such offshore books. If you decided to risk it and wager underage, you could lose all of your winnings if you're caught doing so. Sports betting is risky enough without adding that poison pill to the transaction!
Best Sportsbooks in Schenectady
When it comes to the land-based sportsbooks in Schenectady, the best one is also the only one currently up and running. But don't let the limited choices in the surrounding area get you twisted – this Schenectady sportsbook is housed in a premier New York Casino – in fact, it is housed in the Rivers Casino & Resort, a 5-star venue with the absolute best of everything. Eventually, there might be more venues in and near Schenectady where you can wager on sports, but even then, the Rivers Casino Sportsbook would definitely be the best sportsbook in Schenectady, New York. The Rivers Casino has a vested interest in always being the best sports betting venue in Schenectady, no matter the competition.
Rivers Casino & Resort Schenectady Review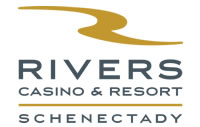 Rivers Casino & Resort

Address:

1 Rush St., Schenectady, NY 12305

Phone:

(518) 579-8800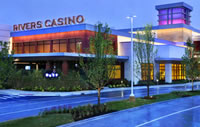 Your local Schenectady sportsbook is operated out of the Rivers Casino & Resort Schenectady, as per the 2013 NY state law. The Rivers Company that owns this casino also owns casinos all along the East Coast. With such widespread success, you know that any sports betting operation coming out of here is going to be top notch. (Sister properties like the Sugarhouse Casino in neighboring Pennsylvania have already proven to have massively popular land-based and online sports betting products, so you know the pedigree is there for a world-class wagering experience).
The Rivers Casino sportsbook in Schenectady offers full-service betting, aka "Vegas-style" wagering (or single-game wagering, as it's known by industry insiders). This means that they cover both professional and collegiate games, in addition to popular international events like the Olympics, the World Cup, and various club and league sports like soccer, rugby, and cricket. The sportsbook in Schenectady is not limited to just covering in-state teams or events. You'll find lines for every game or match you're looking for at the best sportsbook in Schenectady, NY. Whether you're an NFL, MLB, NHL, NBA, NCAA, MMA, boxing, tennis, golf, or racing fan, you'll find hundreds and hundreds of daily betting lines – including live, in-game betting – at the Rivers Casino & Resort sportsbook.
Of course, there's more: Full-service betting wouldn't be worth anything much without varied wager types and betting limits. At this Schenectady sportsbook, you can find all of the classic betting types you expect, like straights, spreads, totals, parlays, props, and futures, in addition to more exotic wagering options like round robins, pleasers, teasers, and alternative lines. The Rivers Casino sportsbook also provides a range of betting limits from low to high so that everyone feels comfortable with their betting options.
Of course, sports betting isn't all that the Rivers Casino has on hand – just look at everything else the venue has to offer. With over 1100 slot machines, 60 live table games, and a private poker room with monthly promotions and tournaments, you have tons to occupy your time between the marquee games of the day. You can even get in a few hands of blackjack or a few roulette spins in between quarters or during the seventh inning stretch! While NY law forbids comped alcoholic beverages, You'll find complimentary water, coffee, and fountain drinks on the casino floor while you're gaming, and there are weekly drawings for free plays and cash prizes. The Rivers Casino & Resort is the home of the best sports betting in New York in New York in Schenectady, and that fact isn't changing any time soon.
Best New York Sports Betting Sites - 100% Trusted + Safe
50% Up To $250
VISA + Wire Transfer
50% Up To $1,000

NEW!

VISA, Bitcoin, Cash Wire
50% Up To $1,000

NEW!

Bitcoin, Wire Xfer, VISA
50% New Member Bonus!
VISA, Bitcoin
100% Up To $500

NEW!

VISA, Bitcoin, Checks
50% Up To $520
Western Union, VISA