What PASPA's Overturn Means For New York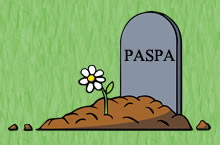 Well, that took forever.
However, now that the Professional and Amateur Sports Protection Act (PASPA, 1992) has finally been overturned, the real action begins. Of course, different states will react to today's news differently, as some are ready to go full speed ahead while others have yet to address the issue of legal sports betting in their own state legislatures. What PASPA's overturn means for New York, though, is clear: Sports betting in now legal in the state. That means that New York residents, who have for years had to travel to Las Vegas or use offshore sportsbooks to place their athletics wagers, can now place them with local, regulated bookies without fear of government reprisal.
Thanks to a 2013 amendment to the New York constitution, betting pools can immediately be instituted inside licensed gaming facilities now that PASPA is no more, meaning that local casinos can have sports betting lounges up and running within a matter of days. While this sort of activity will require the blessing of the state gaming commission, it is likely that requests and approvals at the state level have been in the pipeline and ready to go for months as the Supreme Court ruling was widely anticipated.
The immediate aftermath of PASPA's overturn is difficult to measure or predict for a state like New York. Clearly, the medium- and long-term future is more easy to predict, with sports betting becoming an openly practiced pastime amongst millions of NY residents as a daily matter of course. But right now, today, there are still some regulatory "kinks" to work out, and those might take weeks or months. Nominally, legally, you can now wager on sports freely inside the state, but finding a casino that actively offers sportsbook services may take a little while.
In other words, if you wanted to bet on the NBA Finals with a legal New York bookmaker, you might not be able to this postseason, as the playoffs will be over in three weeks' time. On the other hand, as the NFL season is by far the busiest for the sports betting industry in the US, you can expect dozens (if not hundreds) of sports wagering locations to be active in the state by the start of preseason action this fall. Indeed, the NFL season would seem the logical deadline (albeit a soft deadline, because government never works quickly – just look at how long it took them to overturn PASPA!) for getting sports betting infrastructures installed and wagering services operational.
It will be interesting to see the other angle at play here, as well, and that concerns the professional sports leagues (and the NCAA). During the PASPA "debate," leagues like the NFL, NBA, MLB, NHL, and other smaller groups all entered into the proceedings based on the premise that they would support PASPA's elimination if they received a percentage of the betting handle. Their rationale for this "compromise" is farcical at best, but there is some merit to the tangential idea that the leagues can profit off of legal sports betting using the established European model, where teams are actually sponsors of (and sometimes sponsored by) various sportsbooks and related services and products.
However, whatever "royalties" (a.k.a. unearned handouts) the leagues get from the legalization of US sports betting, these will have to wait until a new federal law (or a patchwork of state laws) determines some sort of scheme to share the pot. For now, however, sportsbooks in New York and other states that have nominally legalized sports betting pending the overturn of PASPA should have full control over their wagers offered, their moneylines attached to these wagers, and the overall betting handles themselves.
Now the bad news: It is only a matter of time before government screws this all up again.
That's coming, and you're dreaming if you think that sports betting laws will all be the same throughout the country's 50 states. In the future, wagering on sports state-to-state is going to be as big of a legal nuisance as figuring out where you can and cannot legally carry a firearm, so you will always have to do ample homework and research planning your activities.
Additionally, there is the online angle to consider. While there is no doubt that Internet sports wagering will be a huge hit in the states that allow sports betting thanks to PASPA's elimination, you will not be allowed to wager at New York online sportsbooks from any other state. This is due to the even more outdated and antiquated Interstate Wire Act of 1961, and that law is unlikely to be addressed by either congress or the Supreme Court any time soon. In other words, just because PASPA has been overturned – and just because it's finally legal to openly wager on sports in several states (with several more surely to come) – that doesn't mean that it's going to be as easy as it should be to find a bookie and place a bet.
SportsBettingNewYork.com hopes America has learned much from the multi-trillion-dollar PASPA blunder, but there is legitimate concern that many states' main goals in the law's overturning will be to get as much of the industry's potential income into their own coffers as possible. It will be interesting to see how the states play their hand.
Best New York Sports Betting Sites - 100% Trusted + Safe