Waterloo Sportsbooks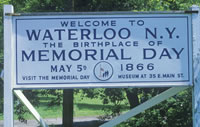 You've probably come here looking for the best sportsbooks in Waterloo, New York and if so, you won't be disappointed. Everything you need to know about sports betting in New York is here from a look at the legal side of things, the ability to use online betting platforms, and some of the regulations sets in place. Thanks to the Supreme Court's decision to repeal the Professional and Amateur Sports Protection Act (PASPA) in 2018, Waterloo sportsbooks are finally a real thing in the Empire State.
There is only one Waterloo sportsbook: the del Lago Resort and Casino. This brick-and-mortar sports betting venue has no online component, as Internet-based sports wagering has not been legalized in New York as yet. However, the use of offshore betting sites still remains legal and convenient for those who do not wish to make a trip to the upstate casino. Still, we include a detailed list of all of the amenities and perks you are eligible for whether you are betting in Waterloo or from your mobile device.
Best New York Sports Betting Sites - 100% Trusted + Safe
Is Sports Betting Currently Legal In Waterloo
Sports betting is legal in Waterloo. In 2013, New York lawmakers passed a referendum to the state Civil Statutes called the Upstate New York Gaming Economic Development Act. The law stated that four commercial casinos were to be constructed and opened in Upstate NY for the purposes of generating revenue for the state. It also stated that sports betting would be allowed at these venues so long as there were no federal restrictions in the way. Furthermore, the law stipulated that the sportsbooks could not open until regulations created by the New York State Gaming Commission (NYSGC) were put into place. This law sat on the books for five years until May 2018, when the Supreme Court officially repealed the Professional and Amateur Sports Protection Act (PASPA).
PASPA was the only federal restriction that disallowed sports betting to be regulated on the state level, and once it was repealed, New York's 2013 amendment essentially legalized the concept of Waterloo sportsbooks on the spot. The NYSGC completed the final steps by providing regulations that formally allowed the opening of the Waterloo sportsbook at the del Lago Resort and Casino.
Because mobile betting was not authored in the 2013 referendum nor was it able to be agreed upon in both the 2018 and 2019 legislative sessions for New York, only land-based sports betting in Waterloo is legal. However, New York sports bettors can still turn to online, offshore sportsbooks like BetOnline, and MyBookie to fulfill their sports betting needs. These websites provide safe, fun, full-service betting experiences for NY residents without the time and expense associated with on-site wagering at limited venues.
What Is The Minimum Betting Age At Waterloo Sportsbooks?
The sole Waterloo sportsbook at the del Lago Resort and Casino has to adhere to the legal age requirements in the state, which is 21 years old for casino gaming and sports betting. Residents who are under 21 years old might think that they can wager at 18+ using offshore online sportsbooks, but this isn't actually the case. Yes, these sites' terms of service only stipulate that members have to be at least 18 to sign up, but those same terms of service also mandate that members must defer to local state age laws if such laws are explicit. Gambling underage in-state or over the Internet are bad ideas no matter what!
Other Cities With Sportsbooks In NY
Best Sportsbooks In Waterloo, New York
For right now, there is only one land-based Waterloo sportsbook to speak of – the DraftKings Sportsbook at Del Lago. Anyone who has been to the del Lago Casino knows that it is a top-of-the-line facility with nothing but the best for its guests. This new sportsbook is not just the de facto best sportsbook in Waterloo, New York – it's also arguably the best sportsbook in New York, period.
Now, anyone who has been to the del Lago Casino knows that it is a top-of-the-line facility with nothing but the best for its guests. Which means that its new sportsbook is not just the de facto best sportsbook in Waterloo, New York – it's also arguably the best sportsbook in New York, period.
That's not all – When you join the rewards program at Del Lago casino, you instantly start earning points. The more you earn, the more rewards you're able to unlock. Once you become a premium rewards member, you will have complimentary drink service while you game. We expect this rewards program to extend to this Waterloo sportsbook. After all, it is going to be the best sportsbook in Waterloo, New York.
Review of Waterloo Sportsbook At The Del Lago Resort and Casino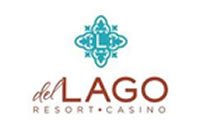 The Del Lago Resort and Casino

Address:

1133 State Route 414
Waterloo, NY 13165

Phone:

855.del.lago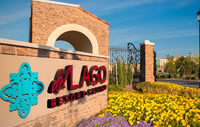 The del Lago Resort and Casino sportsbook is finally up and running, with a premium sports wagering lounge built right on top of the casino's main gaming floor. In addition to all of the amenities already offered for casino players, sports bettors can expect a few perks of their own. First and foremost, full-service sports betting is a no-brainer for this Waterloo sportsbook. That means that you'll be able to have a single-game betting experience totally in line with what's offered at the hottest casinos in Sin City, except right here in your neck of the woods.
The del Lago sportsbook has a wide variety of games to bet on, coupled with a range of betting limits that anyone would be comfortable with. Additionally, they cover every professional team in the US and tons of clubs and leagues from popular sports overseas. This includes teams in the NFL, MLB, NHL, NBA, MLS, league and union rugby, cricket, and soccer, auto racing, UFC and boxing fights, and much more. You'll also get a range of collegiate teams to wager on, with the majority of action settling on Division I football and basketball teams from New York and the rest of the United States.
Sadly, there is a limitation to sports betting in New York – you can only bet on games in person at the Waterloo sportsbook. There will be no Internet-based sports betting or mobile sports betting in the Empire State, as per the 2013 referendum to state law. (We would like to note that this does not prevent you from using online, offshore sportsbooks. Instead, this just keeps you from using an account associated with the Waterloo sportsbook at the Del Lago Casino.)
In addition to their expertly-assembled sportsbook betting lines and options, the Del Lago Casino has been doing other amazing things since day one. The venue has nearly 100 live table games available for players, with varying betting limits. You can play blackjack, craps, roulette, poker, and more, all of which is offered in a friendly, comfortable, festive environment. In addition to the classics, the del Lago Casino also offers Caribbean Stud, Let It Ride, baccarat, and three card poker, among others. When it comes to poker, the del Lago really does offer the most. There are 14 live tables open 24 hours a day, all offering Texas Hold 'Em, Pot Limit Omaha, and Seven Card Stud. There are multiple limit and no-limit tables for each game, too, so beginners and veterans are all welcome and won't get in each other's way.
If slots are more your style than sports betting in New York, you'll have more than enough games to keep you going for hours and hours of fun. There are nearly 1600 slot machines at the Del Lago Casino for you to choose from. The sky's the limit with how much you'd like to play per turn when you enter the high-limit room. Not your bag? No worries – the casino floor has more than enough penny slot, $1, and $5 slots waiting for you. Just don't spend too long turning the slot handle – remember, the sports betting handle is where it's at!