Mobile Sports Betting Left Out Of State Spending Budget
Governor Andrew Cuomo leaves mobile sports betting out of state spending budget.
No mobile sports betting for now.
NY SB 17 is a bill to legalize mobile sports betting.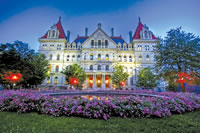 NEW YORK – Governor Andrew Cuomo has left out mobile sports betting out of the state spending budget when he signed it on Sunday.
Governor Cuomo signed the $175 billion budget on Sunday and he called it the most progressive budget he has ever signed to date. Even though he said that lawmakers had to omit mobile sports betting and legalizing recreational marijuana as well.
Cuomo Firmly Against Mobile Wagering
It is doubtful that Cuomo would have signed the state budget if it had included mobile wagering. Cuomo has repeatedly stated that he is not in favor of mobile wagering without having a statewide referendum. The governor said that going to the mobile space is an expansion of gambling that will need a constitutional change.
Lawmakers that are wanting to legalize mobile wagering disagrees with the governor. Lawmakers have asked the law firm known as Gibson Dunn & Crutcher for their opinion on the issue. The law firm has stated that mobile wagering would technically take place in the casinos due to servers that would host mobile sports betting, so a constitutional amendment would not be needed.
The law firm and lawmakers both believe since a referendum took place in 2013 to allow for sports betting, another one would not be needed to implement mobile sports betting. Doing another referendum would delay mobile sports betting for two more years.
Falling Behind New Jersey
Many believed that New York would closely follow New Jersey's footsteps in legalizing mobile wagering. This is because trains and buses from New Jersey heading to New York have ads for their mobile sports betting app. This has been helpful in increasing the overall sports betting handle for New Jersey.
A report from the New Jersey Division of Gaming has shown that mobile wagering counts for up to 80% of the overall sports betting revenue for the state. The convenience of mobile sports betting is one of the reasons why New Jersey is ahead of many states when it comes to sports betting handle.
Sports Betting Not Yet Available In New York
One of the things to remember is that sports betting is now completely legal in New York. The only thing that is stopping gamblers from placing their bets is that there are no sportsbooks that are currently opened. Sportsbooks are hoping to open in upstate casinos before the NFL season begins.
This is a big reason why lawmakers in New York is pushing for a mobile wagering option. The casinos in upstate New York are at least two hours away from New York City. Many New Yorkers have an easier time going to New Jersey to place their bets because the state is only 20 minutes away from them. Lawmakers say that not having a mobile option is allowing tax dollars to go to New Jersey and not to New York.
Other Ways To Legalize Mobile Betting
Missing the opportunity to be legalized through the state budget doesn't mean that mobile wagering can't be legalized. There is still a way for mobile sports betting to be legalized in 2019. Lawmakers have introduced NY SB 17 which is a bill that would legalize and regulate mobile sports betting in New York. This legislation faces an uphill battle.
If this bill is passed through both the House and Senate, it would then need to be signed by Governor Cuomo. He has already said how against he is for mobile sports betting, so it is likely that the governor would veto the bill. He may also push for a statewide referendum as well.
Time is also not in favor of mobile sports betting. The spring legislation session ends on June 19. If the bill does not pass and gets signed before then, the debate will likely be shelved until 2020.
At this point, the debate for mobile sports betting will continue. Lawmakers are going to have to convince the governor that a statewide referendum is not needed for New York sports betting or else he is unlikely to sign off any bills that get passed. But it is still possible that such a bill will be passed before the legislative session ends.
Best New York Sports Betting Sites - 100% Trusted + Safe