Yankee Stadium And Madison Square Garden Could Have Sports Betting Action
Betting kiosks could be set up at the two famous stadiums
Bill A06113 is the measure to make it happen.
No other state has done this yet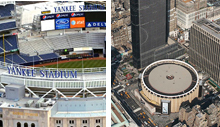 NEW YORK – Discussions took place on Friday that would allow sports betting kiosks to be placed in Yankee Stadium and Madison Square Garden.
Assemblyman Gary Pretlow said that he is working on tweaking a sports betting bill A06113 to make it allow for these world-famous stadiums to contain sports betting kiosks. He said that he would continue to work on this unless he receives strong opposition from fellow lawmakers.
New York Wants To Be First
If Pretlow is successful and sports betting kiosks are implemented to stadiums, New York would be the first state to do so. Although Washington, D.C. has already approved gambling at stadiums and arenas back in December, the measure hasn't been implemented yet. Bringing sports betting to stadiums could drastically increase the range of locations for sports betting in New York.
Right now, there are four locations New York has approved that could open sportsbooks. These are in casinos in upstate New York, away from Empire City. Because of that, a large number of New Yorkers would rather travel to New Jersey instead of going to upstate New York to place their sports bets.
Implementing these sports betting kiosks would bring the sports wagering action much closer to the city. That would allow New York to capitalize on the tax betting revenue instead of losing it to New Jersey. Another option that is being explored in that matter is implementing mobile sports wagering in the state, but that could be slower to implement than adding sports betting kiosks.
Caution But No Opposition
Senator Joseph Addabbo said he doesn't have a strong opposition against adding sports betting kiosks to these stadiums, but he wants things to be done carefully.
"To do it right, I think we need to do it in a very methodical manner," said Addabbo.
He continues this line of thinking, saying that he wants to focus on establishing sports wagering for a couple of years before such discussions to take place. That time period Addabbo wants could help with making sure the integrity of the games is kept.
Baseball And Sports Betting Scandals
In 1919, the worst sports gambling scandal happened. The Black Sox incident happened when the White Sox team shaved points against the Cincinnati Reds during the World Series and threw the game for bettors. The Black Sox were wanting a cut from the profits.
This was the real start of when people cautioned against betting on sports. This is a large reason why sports leagues are against sports betting and are wanting to implement "integrity fees" in states that are legalizing sports betting. Although integrity fees are not in the talks, Addabbo wants to make sure there are protections against such scandals from occurring again.
Although Addabbo is worried about sports betting scandals, he is not against the legislation. For now, Pretlow is moving forward with his legislation to implement sports wagering kiosks in Madison Square Garden and Yankee Stadium. If this measure passes, New York sports betting will be a lot closer to city residents.
Best New York Sports Betting Sites - 100% Trusted + Safe